Many people ask about Ali Nazik Kebab, which is a wonderful recipe that we can make from guests to relatives, from relatives to friends, both on special occasions and when you want to make ordinary moments special. We have collected the wonderful flavor that you can make at home effortlessly and easily and you can't get enough of it. Here is the wonderful recipe where meat like Turkish delight meets roasted eggplant…
RECEIVE ALI NAZIK
Materials:
400 grams of strained yogurt

3-4 pieces of belt eggplant

Sal

2-3 cloves of garlic

500 grams of diced beef

1 tablespoon of butter

Salt, pepper, paprika, thyme

half a glass of water

2 tablespoons tomato sauce (you can use 1 tablespoon tomato paste if you want)
HOW TO MAKE ALI NAZIK KEBAB?
Manufacturing:
Roast the aubergines and remove the skin.

Chop finely.

After cooling, mix well with crushed garlic and strained yogurt.

Adjust your salt.

On the other hand, wash the meat and drain the water.

Put it in the cooking pot and wait for the pot to absorb the water leaving the meat, with the lid closed, on low heat.

Then add the butter.

Add the spices and tomato sauce, except the salt.

Be sure to add hot water. It won't be very watery, we'll just have a thick sauce.

If the cooking time of the meat is longer, you can check it frequently and add a little hot water if necessary so that the bottom of the pot does not stick.

Finally, add salt to the cooked meat and remove it from the heat.

Put the eggplant mortar on the serving plate and the meat on top.

You can decorate and serve as you like.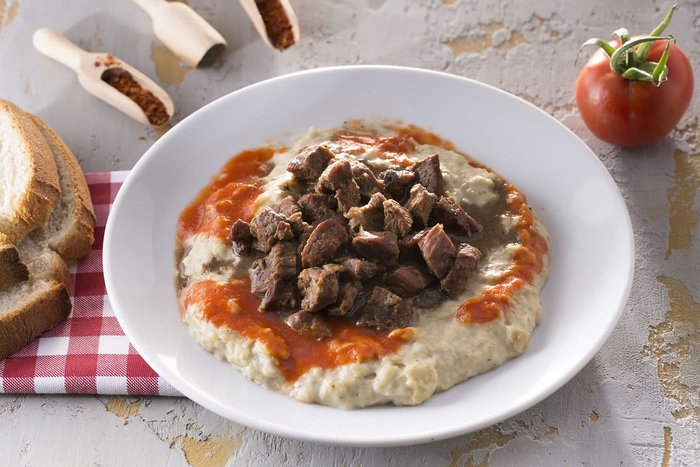 ALI NAZIK TIPS
If you don't have roasted aubergines at home, you can also roast them in the oven on parchment paper. While roasting the eggplant, you need to make holes in it with the help of a fork.

Make sure the water you add to your sauce is hot.

You have to cook the meat in a controlled way.
___ENJOY YOUR MEAL___