When we say ravioli, we all think of Kayseri. However, mantı also has its own varieties. Have you ever tried oil ravioli, which is one of the most popular varieties of ravioli? You won't be able to get enough of it when you eat it. It will bring the Kayseri culture back to your tables with its delicious taste. You can easily make oil ravioli at home. Make better oil ravioli from the Kayseri masters with this recipe! Here is the recipe for oil ravioli that you can easily make at home and the stages of preparation…
We all like to eat ravioli. Well, have you ever had ravioli? You can easily make ravioli at home with its delicious taste. All you have to do is follow this recipe step by step. So how to make oil ravioli? What is the recipe for oil ravioli? What are the ingredients of oil ravioli? Here's the ravioli recipe you can make better than the ravioli masters…
WHAT ARE THE INGREDIENTS NEEDED FOR A THICK BULK RECIPE?
Ingredients for the sauce
1.5 tablespoons of tomato paste
1 teaspoon of chili paste
3 tablespoons of oil
1 cup or more water
Sal
dried mint, red pepper
Ingredients for the yogurt sauce
1 kg of whipped yogurt
3-4 crushed garlic cloves
Sal
Ingredients needed for the dough
Half a package of fresh yeast
1 egg
2 tablespoons of yogurt
2 tablespoons of oil
1.5 – 2 glasses of warm water for the yeast
Sal
Sufficiently sifted white flour
Materials needed for the interior;
300 g of minced meat
1 onion (grated)
Sal
Black pepper
Preparation of oil ravioli
For the ravioli filling, grate the onion.
Knead it well with minced meat, salt and spices, cover it with cling film and let it rest in the fridge.
While the minced meat rests in the fridge, prepare the dough for the ravioli.
Take 2.5 cups of flour water in the kneading bowl.
Add yeast, milk, yogurt, egg and salt, mix and start kneading.
If necessary, add a little more flour and knead to a firm, non-sticky, smooth consistency.
After the dough has risen for 40 minutes at room temperature, divide it into meringues and roll them out on a floured surface to a medium thickness.
Divide the phyllo into squares larger than regular ravioli.
Place a piece of the minced meat paste that you have stored in the fridge in the middle of the squares.
Close the dough in the form of a bundle and fry it in oil.
Remove the fried ravioli on a paper towel.
On the other hand, grate the tomato.
Fry with garlic until the water is absorbed.
Crush the garlic and mix it with the yogurt.
Serve your ravioli with yogurt and tomato sauce.
Enjoy your meal…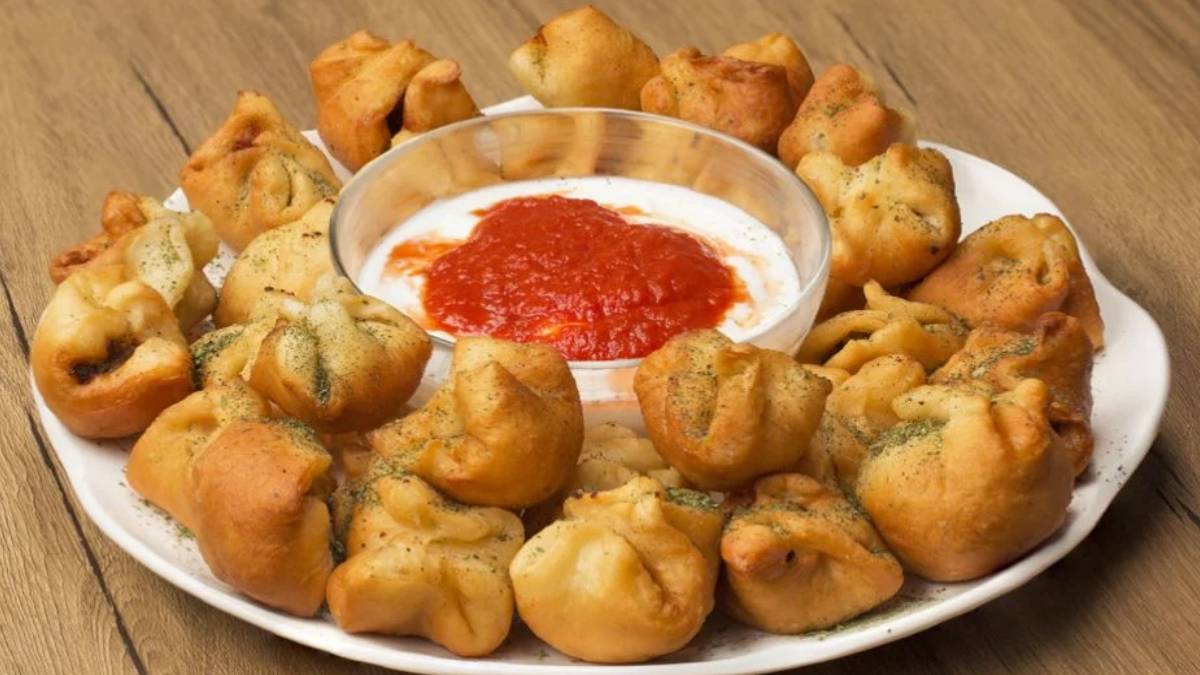 MANTI OIL TIPS
Keeping the minced meat in the refrigerator will increase the intensity of the flavor of the mortar. Using warm water to prepare the dough will shorten the fermentation time of the dough.