Are you one of those people who thinks about what dessert to make for your evening tea guest? We found what dessert to make. You will delight the taste buds of your guests with the legendary desserts of Cyprus. Here is the recipe for Cyprus desserts…
We are here with the legendary dessert recipe of Cyprus, where you will get a different taste in every forkful for those who are bored of classic dessert recipes. The most important feature that distinguishes Cypriot desserts from other desserts is that breadcrumbs are placed in the cake instead of regular flour. You will be amazed at the taste that comes out when the gorgeous cake meets the sorbet and silky cream. Here is the recipe for the delicious desserts of Cyprus…
MATERIALS

3 eggs

1 teaspoon of sugar

1 tea cup of oil

2 teaspoons of breadcrumbs

2 teaspoons crushed walnuts

2 teaspoons of coconut

1 package of baking powder

For the cream;

5 cups of milk

2 teaspoons of starch

1 teaspoon of sugar

1 package of vanilla

1 packet of whipped cream

By Sherbet;

2 glasses of water

1.5 cups of sugar

1 package of vanilla

For the previous;

coconut
MANUFACTURE
Let's start to make the legendary dessert of Cyprus by first preparing the sorbet. For this, take a suitable pot with water and sugar. When it starts to boil, reduce the heat, boil for another 15 minutes and pour in a packet of vanilla, mix again and let it cool. It's time to prepare our dessert cake. We get our bowl for that. Add the eggs and sugar and beat until foamy. Then add the oil, crushed walnuts, coconut and mix. Finally, add the breadcrumbs and yeast and mix. Pour our cake batter into the pyrex tray or oven that we have greased with oil and put in the oven at 160 degrees for 30 minutes. Since the baking time of each oven is different, be sure to check whether your dessert cake is cooked or not. We take our dessert out of the oven and immediately pour the cold syrup over it.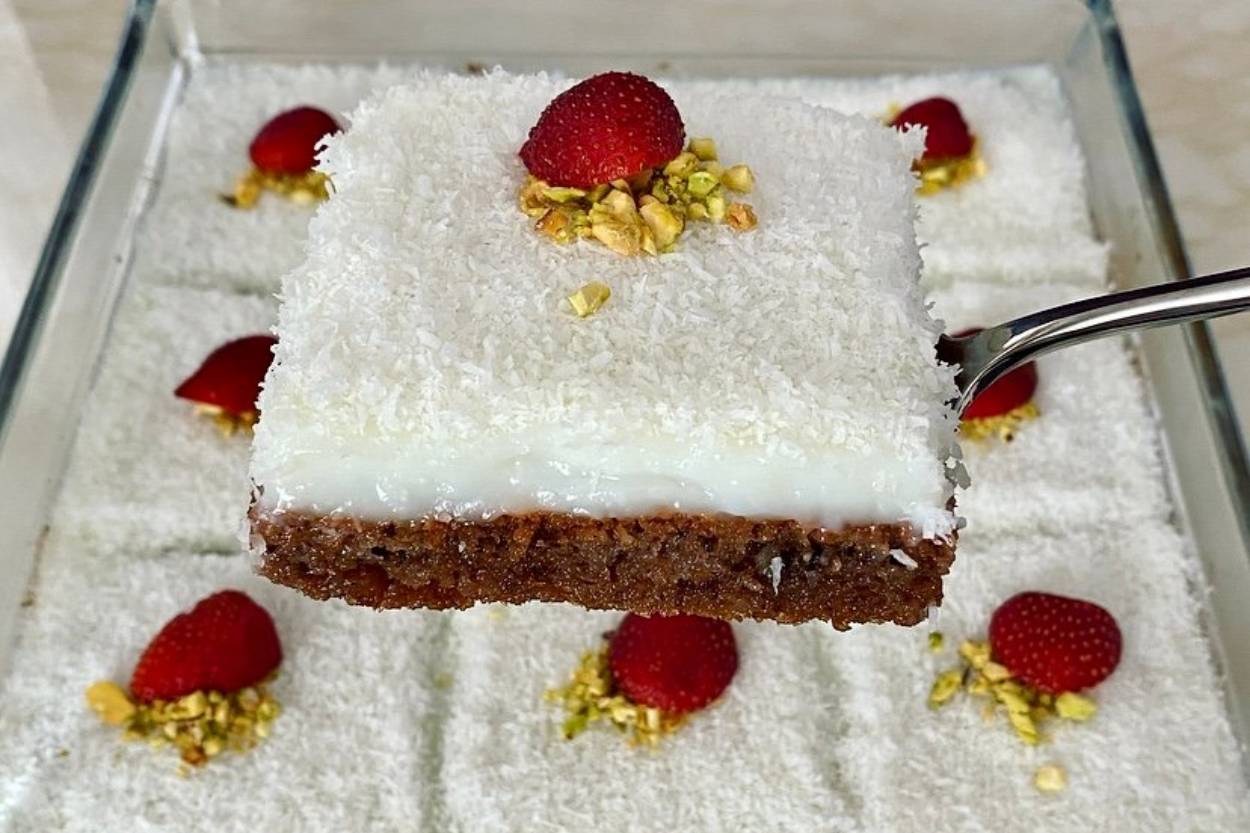 THAT MUST BE WHAT THEY SAID TO GET EAT WITH YOU
Set the cake aside to cool. Now let's prepare the cream for our Cyprus dessert. For this, take milk, starch and sugar in a deep pot. Stir constantly until our cream boils. When the top of the cream is face to face, add vanilla and cream powder and beat for 5 minutes. Now pour this cream over the cooled syrup cake. Finally, sprinkle a lot of coconut and let our Cypriot dessert rest in the fridge for 2-3 hours. We serve our rested desserts from Cyprus by cutting them.
ENJOY YOUR MEAL..